re·fo·cus
Verb
Adjust the focus of (a lens or one's eyes).
Focus (attention or resources) on something new or different.
You guys.
I have a problem.
I am obsessed with shopping.
If I'm not physically shopping, I think about shopping.
I'm always thinking of things I want. Keyword, want.

I'm not being funny here, it's sick.
This past month, it's gone to an entirely new level.
This may sound bizarre, but I love it so much I can't stand doing it.
What the HELL does that even mean?
It means that I shop so often because I love it, that now I can't stand anything about it.
As of late, it makes me feel rotten.
To put things in perspective, I rationalize buying new outfits multiple times a week.
"Well.....you started your period this morning. You deserve it."
"The weather is supposed to be warm tomorrow. Go buy yourself a new pair of flats."
"You're having friends over Friday. That calls for a new top."
"Rodeo. YOU MUST go buy a pair of ripped up jeans. Even though you have 25 other pairs you could rip up yourself."
"Day at the winery. That calls for a sophisticated yet chic blazer."
"You're going to happy hour for the 3rd time this week. New dress."
"Your at Target picking up a head of lettuce for dinner. The clearance rack is on the way, right?"
I've recently started shopping for nightgowns just to switch it up. Not like sexy, titty revealing nightgowns. We're talking long sleeved, down to my knees nightgowns. I mean, God forbid they be sexy short so my husband can get an ass shot every now and again.
Pretty soon I'll be crawling into bed in this bad boy.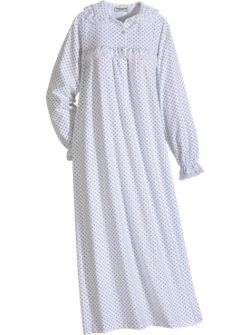 My point is, it's time to take a break.
There are folks out there that don't know where the hell they will sleep tonight, and here I am cruisin' thru TJMaxx having a meltdown because I can't find the perfect top to wear that night.
How selfish is that?
Instead of thinking about all that I
want
, I need to refocus on only what I
need
. And that sure as hell isn't another damn top.
In an attempt to get a jumpstart, I'm taking a shopping sabbatical.
One month. I vow to put down the plastic.
I vow to refocus.