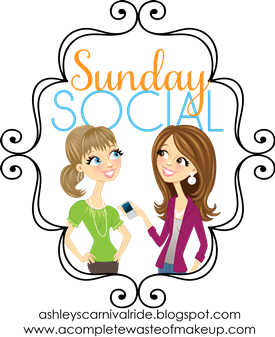 Since I'm at work today, which I'm extremely pissed off thrilled about, I figured why not jump on the Social Sunday bandwagon this afternoon. Listen, I'm about to stab my eyeball with a fork sitting her at my desk, starting at the computer screen. Maybe some post action can help me refrain.
Ok, so we got all things MUSIC today. I'm going to be super up front (ha, what's new) in that I'm not a huge music fanatic, I don't know all the latest hole in the wall bands, I suck at figuring out who is actually singing when a good some comes on. However ya 'all, I do me some Sara B, Miranda, Katy Perry & TSwift. And let's be honest, most everyone enjoys some Taylor Swift action however most are too damn embarrased to admit it. Well, i'm not. Balls up and own it. TSwift sings about all the shit crap we are thinking. How could you NOT love her?
Let's get started.
What is your ALL TIME favorite song?
Kiss by Prince. Hello. Best song ever. I love it so much I forced my bridal party to walk into the reception dancing and making kissy lips while they walked to their seat.
Who is your favorite singer/band?
SARA BAREILLES BABY......ALLLLLLLLL THE WAY.
We've even touched breasts.
Ok, in a hug, but still.

Listen, if you're a Sara B fan, PLEASE leave me a comment as I'd love to start stalking you. Pronto. Anyone who knows their Sara B is already a friend of mine.
What is your theme song that best describes your life?
I Got 'Da Moves Like Jagger
What songs put you in a good mood?
I love me some good 'ol country music: Eric Church, Miranda, Justin Moore, Pistol Annies, TSwift.
Like that mix?
What's your favorite roadtrip music?
I'm on a Boat--featuring T-Pain.
Our longest roadtrips are down to Galveston, TX to board our cruise ship, so this song is only fitting.
What song are you embarrassed to admit you love?
I'm not embarrassed to admit anything, especially not my love for terrible music.
Happy Sunday, ya 'all.