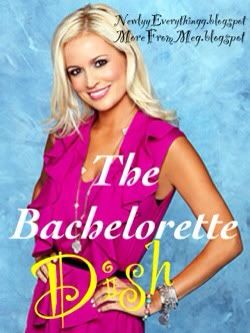 Time for another Bachelorette Dish: Link up Party!
Please please please
, if you want to link up with us,
GRAB OUR BUTTON
and link up at the bottom of this post. Then hop on over to my co-host's blog,
More From Meg
and link up there as well. We
so
want
to hear all your juicy feedback, but won't be able to unless we know you are linking up! Hope lots of you beautiful ladies join us this week!
A grown woman knows how to admit when she's wrong, and BOY was I w-r-o-n-g last week when I spoike so fondly of Mr. Ryan. All you ladies, PLEASE join me in saying....WHAT AN ASSHOLE. I'm sure Jillian is just cringing inside watching another Wes grace The Bachelorette screen. Let's just hope Ryan doesn't bust out a guitar & serenade next week.
Enough about narcissistic Ryan.
Let's move on to Chris & Emily's date.
Because this date was the first one of the episode, I was feeling optimistic about Chris. Yes, he's only 25, but they seemed to move past that and have some great chemistry. And that kiss!? He earned some major points in my book when he asked for permission. Class act, girls.
However, how awkward are these dancing scenes? I think they need to have a few more glasses of wine before they break out onto the dance floor because it's painful to watch at times. I would compare it to an eighth grade sweetheart dance. Awwwkkward.
Moving on: Group Date. At first I didn't agree with the whole brining her friends to "grill" the guys. I thought it may have been a little too early on to pull the friend card, but as the date went on, I was totally on board with her decision. I mean, why continue to date these guys for weeks on end, develop connections, and then realize some are just total douchebags. No thank you.
This date was when Ryan just crashed and burned. He told her that she couldn't get fat after they got married, then tried to redeem himself by saying he'd still LOVE her but just not love ON HER. It's over man. You are an idiot moron. Who the hell says that!?! Man, he went up in flames in my book.
And I think her friend Whitney forgot that these guys were on a show called The Bachelorette, trying to win Emily's heart. I was worried she was going to rip her clothes off and let him have her right there on the picnic table.
Moving on, and saving the best for last: Her date with Arie. You girls were SOOO right on calling this one a front runner. Yes, I think their relationship may move a bit slower...however I think that's exactly the kind of guy Emily needs. Someone who is willing to invest the time to truely win her heart. And their chemistry?!!? I'm having a hot flash just thinking about it.
I haven't projected a true winner yet, but I'm calling it on this one.

As my husband would say, WINNER WINNER, CHICKEN DINNER.
What do you gals think???????????
I would SOOOO love to read your thoughts so far on this season! Grab my button and link up with my
co-host Megan
and I, so we can follow along your "dish sessions" week after week!