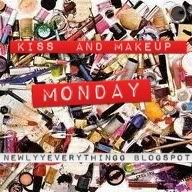 I started to type, "Happy Monday." And then I realized how absolutely ridiculous that sounds. No one feels "Happy" on a frickin' Monday. If you do, you're a frickin' alien.
On a lighter note, I did have a phenom weekend....c'mon, anything weekend is great! Hope all 3 of you did as well.
Today I wanted to switch it up a bit and change my (now) weekly "kiss & makeup posts" to a Monday thang from here on out. You may have noticed my button saying "Monday" instead of "Thursday" on my
last post
. Or not....either way, we're a go for Monday's from here on out.
I am going to review my latest nail kit purchase called
SensatioNAIL
. Bought At Walmart for $50 and am absolutely in LUURRVVEE with it. I got the starter kit that came with the color called rasberry wine. Wine? Oh, i'm there.
Here's how it works:
Prep your nails with nail file, buffer and cuticle stick.
When you get 'em all nice and smooth, take the one of the lint free wipes (included in kit) and squirt some of the gel cleanser on it. Clean all your nails with the pad. Now your ready to start the process!
Step One: Put a coat of primer on your nails and let air dry
Step Two: Put a thin coat of the gel base/top coat on next
THEN 30 second cure with the LED light
Step Three: Two thin coats of the polish with a 60 second cure in between each coat
Step Four: Put one last coat of the gel base/top coat and cure for 30 seconds
And you're done! You have beautiful nails with a stellar glossy shine that LASTS!! The manicures last a solid week to two weeks. I love doing them do much that I peek mine off after a week just to try a new color. But if you're someone that doesn't bite your nails...you can get two weeks out of 'em.
Set aside around 30 minutes to give yourself a mani. Another 20 to throw in a pedi.
Overall I would give this product a 4.5 nail rating! Love the glossy shine and love that you can go on with your day after you preform the last cure. As a woman on the go, you can't beat it!