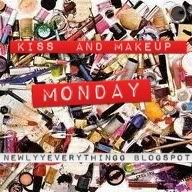 Yo homegirls! Happy Friday Eve and happy "Kiss&Makeup"day. Whoop freaking woop. Im totally loving trying out these new beauty products and although I know only like 5 people may read this....let's just pretend im Lady Gaga and have thousands of little monsters worshipping everything I say. Ok, my Mama told me when I was young, we were all superstars.
Like my new button? I haven't figured out how to get the HTML box yet. Hopefully next week. Any tips would be appreciated.
This week, in light of my recent post including my desperate plea for suggestions on good drugstore mascara (that no one answered...wahhhhh) I decided I would wing it and try out a wildcard. I chose.....
Loreal False Fiber Lashes in brown/black.
Here's some before & after pics....
After one coat...don't mind the super creepy crazy eyes. what the hell, Anne.
Two coats
I would give it a 3 out of 5 lash. Decent, but I think I would like it better in a more dramatic black. Also, the fact that it takes several coats to stand out kinda bugs me. I don't have TIME to spend 8 years putting on mascara!
And I will ask again, just for shits. What are your fave drugstore mascara brands???
Mrs Xenos