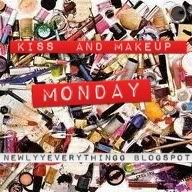 Hola blog amigas. Today will be a 3 for 1 post. Say it with me, "whoop whoop bitch!" I would LOVE for you all to grab my button & LINK UP! Tell me about what products get your goat....or make you say damn, i'm one sexy bitch.
This week I'm wrapping up my Hard Candy (from Walmart) product line reviews. All in all, I have been VERY disappointed in ALL of the products I've purchased except for the
lip pencil
. This past week I sampled the following trio of Hard Candy products, all costing under $10.
I'm going to keep it short and sweet on these three products. The mascara does not keep your lashes looking full for more than an hour, terrible.
The eye shadow product was just as terrible. The roller ball applicator does not distribute enough powder to give your eyelid any color. The one positive of this product is the eyeliner end. It does have a nice rich color and a super easy applicator.
And I saved the WORST for last. The primer. It has the most bizarre texture! It feels like you are taking a bunch of fat lard and rubbing it all over your face and into your pores.....disgusting. This one went RIGHT into the trash. Who the hell wants to rub greasy shit all over your clean face? Not me!
So, needless to say, don't waste your money on this line ladies!
I'm SO looking forward to moving onto a new brand next week! Any preference on brand from you lovely blog amigas out there? Almay, Revlon, Loreal....?