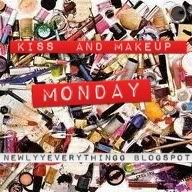 Grab my button & join me for another Kiss & Makeup Monday! You don't have to solely review beauty products...feel free to join in with any and all things makeup!!
I don't know about you all but I am draging ass this morning. Man, Monday's are TOUGH. However, on a brighter note, this Monday is a little more tolerable because......of THE BACHELOR FINALE TONIGHT! Don't judge me.
This week I wanted to start reviewing the Hard Candy makeup line at Walmart. Even though I have a bachelors degree in marketing, I'm still a sucker for bright colors & coy product names. I have always LOVED OPI nail polish. Not because of the polish...but the adorable names of the polish.
Hard Candy is no different. They have a great product display, FABULOUS color selections, cute packaging....and the best part, UNBEATABLE prices.
A few weeks ago I was in the market for a great mascara. I'm still on the lookout however I have to deal with my latest purchase I reviewed
here
. As of late, i'm in the market for a great lipstick. I'm over the whole glossy, shiny, sparkly shit. I already have massively huge lips....
...the last thing I need to do is accentuate them with a blinding glossy shine.
I want a good stain that looks classy and can withstand my morning coffee. I decided to try
this one
out from Hard Candy.
Despite the rave reviews online, I was not as impressed. Don't get me wrong, the color was great and it was just the right amount of gloss. My issue was with how FAST it wore off.
Three hours later...
Overall, I would give it a 3.5 smooch rating out of 5. So, I'm still searching for my perfect lip stain. Help a blog sistah out! What do you all use to lather up your smoochers???????